We didn't feel we could compete with world events for your attention until now, but following some grumbles that we have not been keeping you updated, here is our news round-up  to help you choose your perfect island in 2017
Man up and brave the water

Greek airport traffic  was at an all-time high this summer, while  the ports  showed a decline. In other words,  the superstar islands like Mykonos and Santorini groaned under the weight of visitors, while the slightly harder-to-get-to islands didn't.  We want you to man up  a little  and take a boat;  even a five-minute water taxi if necessary –  faint heart never won fair island, and there are some gems  out there, whose regulars won't thank us for pushing  "their" island in front of you, but where there is room for a few more of the right sort of people. As a reward for being intrepid, you will often find really excellent value,  better choice of available dates,  and for our UK  guests, your battered pound sterling  will go further,  though on windier islands you will have to hold onto your panama hats. These are oases of old-school Greek island charm and hospitality and well worth the effort. We promise to make boat transfers as smooth as possible!
We have new houses to show you on the following non-airport islands; many of them safe for Panama hats.


This really is only a five- minute boat ride from the mainland – one of the reasons Athenians use it as their weekend retreat. Flushed with success so to speak from 2017, the Municipality is now improving  the  island waste drainage pipes so that many more houses will have loos that you can throw paper into.  You heard it here first.
We have a splendid new beachfront villa to add to our collection, plus a great option in town with pool and waterfront access.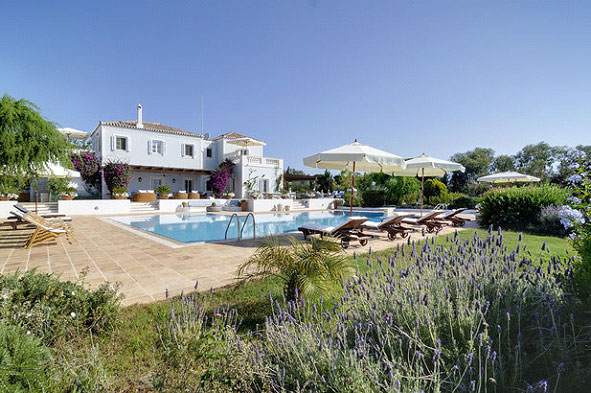 This is so easy to get to that many Athenians live here and commute;  it has its own spectacular temple,  a jewel of a neo-classical town,  great food, and we have added a couple of modern masterpieces, as well as a glorious neo-classical aristocrat to our portfolio.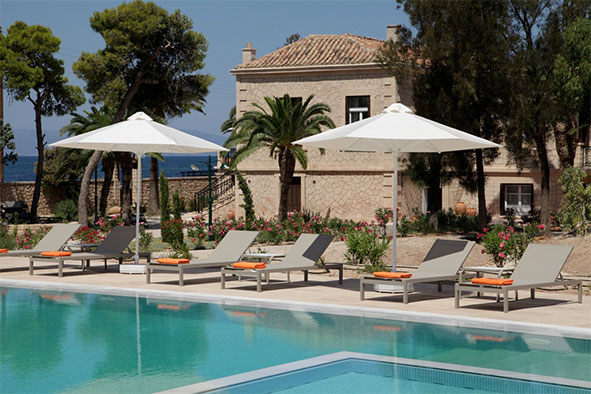 Just an hour and a half private water taxi from Corfu airport- we are thrilled to add three new waterfront houses to  the ones we already have. They go like hot cakes, so book early for August.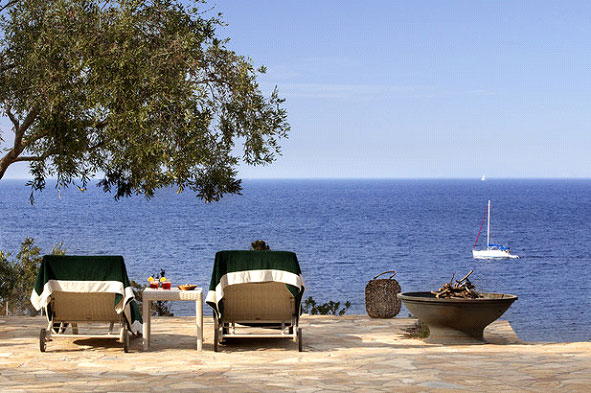 A 30 minute water taxi transfer from Kefalonia and its international airport, Ithaca has notoriously few houses, but we have found a very stylish addition to our mid-range collection, perfectly poised between the little town of Vathi and the best road-accessible beaches in the area.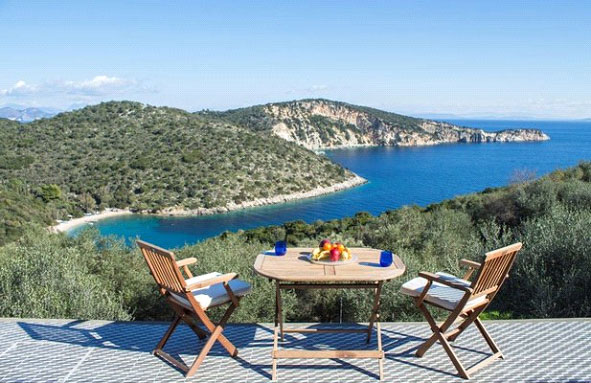 For the lotus eaters among you, but not safe for panama hats  A perfectly  acceptable ferry or high speed ride from Piraeus, and utter tranquility, traditional values and aesthetic,  and peace. Our new house is of the highest quality and style – absolutely unique on the island and very good value as the island has no airport.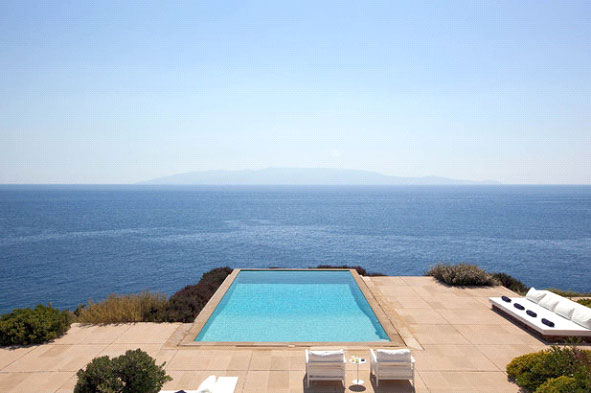 High Flyers
For those of you who will only fly,  here is some news from the rock stars islands:
2017 sees the opening of a  new airstrip which means that Paros can now take  more and larger planes, and will have  flights that connect to Mykonos, Santorini and  Crete.  The island is already a firm family favorite with its huge number of sandy beaches, pretty villages, historical monuments, walks, churches and  excellent sporting opportunities. We anticipate a rise in demand so book early.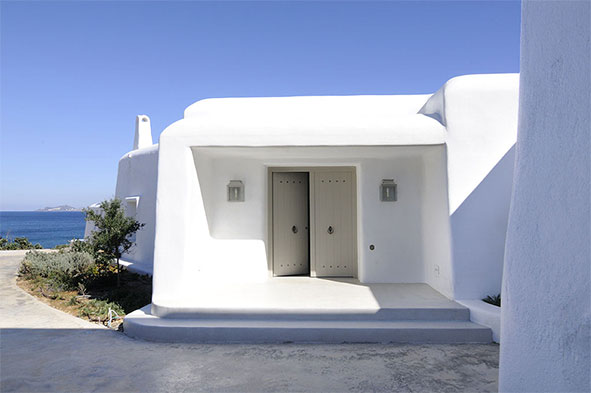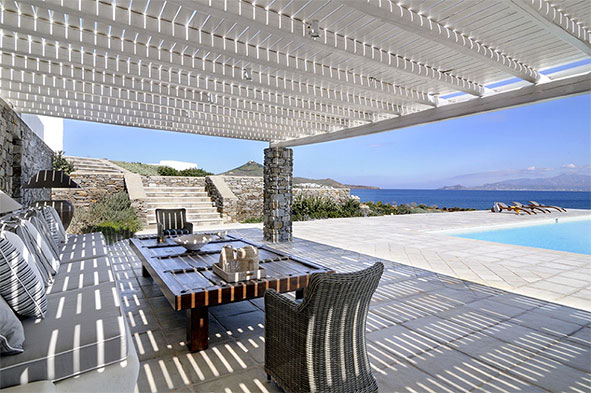 We took on some superstars at the beginning  of the summer, which are now ready for booking for 2017:
Mykonos VIP ;  A 2-villa estate for a large group or two families, enjoying almost perfect seclusion;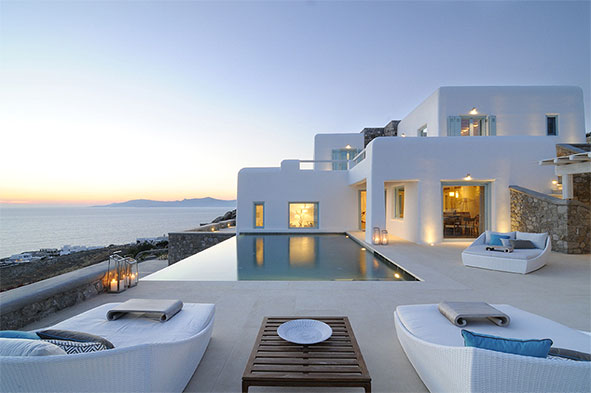 Mykonos  BD- possibly the best location on Mykonos just past the New Harbour with private sea access: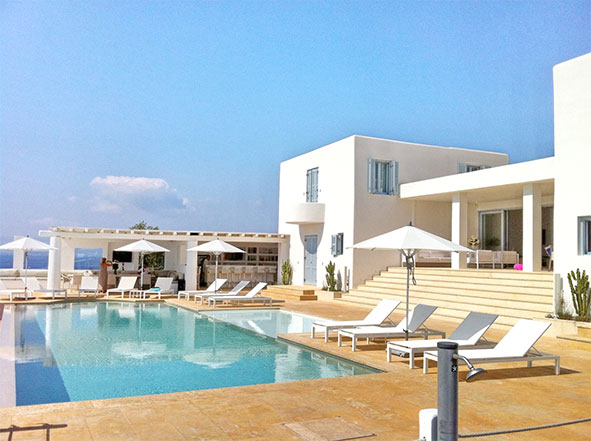 Some smaller but very fine additions to the Corfu scene: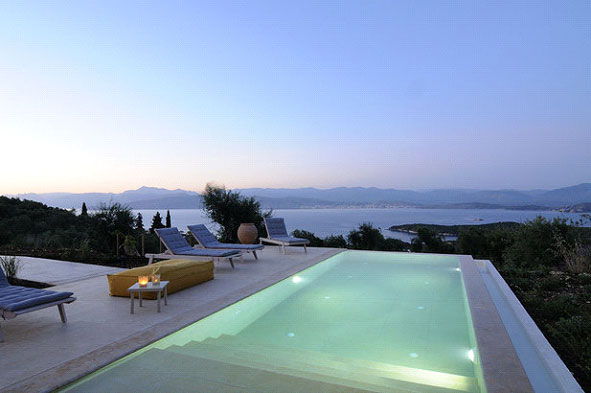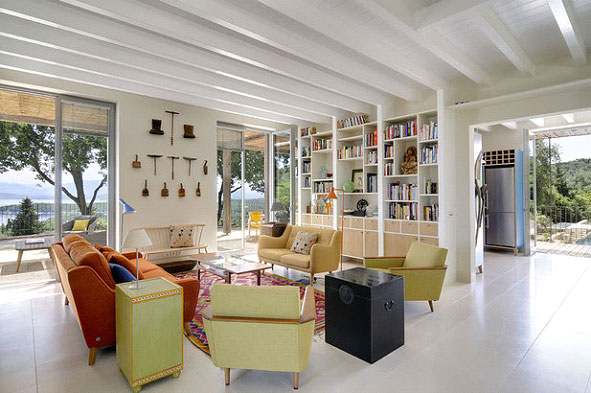 Zen serenity above a quiet private beach,  for design connoisseurs.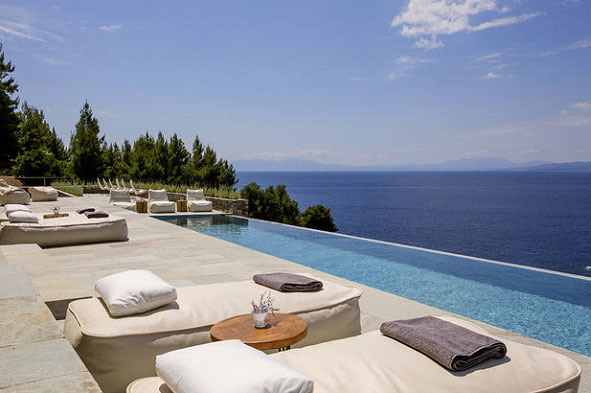 Special events
We have been given exclusive, limited access to a stupendous estate on Mykonos for a group looking for a venue for a special occasion. The best pool on Mykonos without a doubt,  vast outdoor spaces,  a private home movie theatre,  basketball court, helipad, and plenty of bedrooms.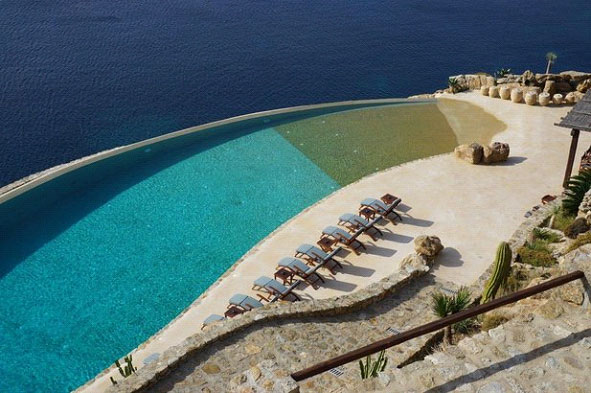 Greek Easter
Finally, we remind you that Greek Easter and Western Easter fall on the same day in 2017, April 16th, so the Greek Islands will be officially open.  A little early for swimming in the sea, but sun, flowers and  blue skies, and the joyous Greek Easter celebrations.  Consider Patmos, and join in the  spectacular celebrations under the Monastery of St John the Divine .  As an alternative to a villa, we can suggest a Gulet trip to take in a few of the nearby smaller Dodecanese.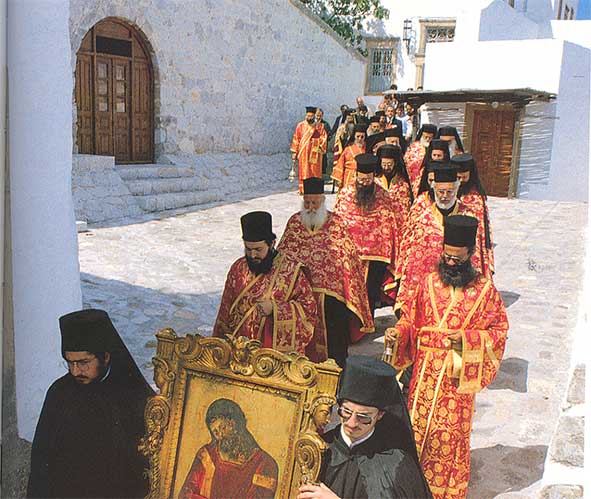 To ask about any of these or any other properties, click HERE .
or email  ileana@fivestargreece.com