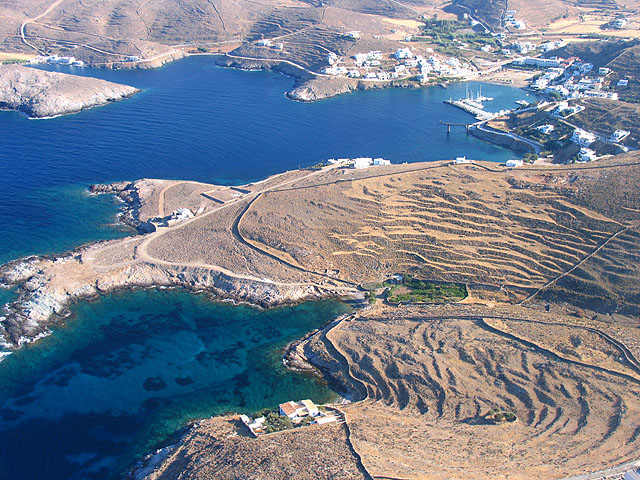 We are thrilled to introduce a new island to our portfolio of  destinations with lovely villas – and Kythnos is a particularly low-key and charming island, with very few villas and not much to do. Just what we like.  In fact, the glamorous Athenian owner of our new villa shook her head in wonderment during our meeting, saying,  "I can't think why I built a house there – there are no people,  and there is nothing to do. " An Athenian's idea of hell, our idea of heaven.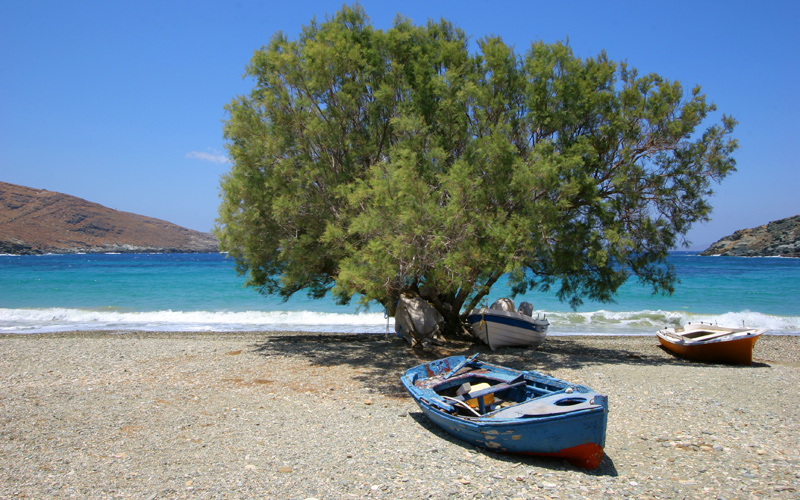 Where the deep blue of the Aegean melts into the blue of the sky, Kythnos raises up its tawny volcanic cone, and is the next stepping stone across the Cyclades from Kea to the north, and Serifos and Milos  to the south. Just out of sight lies Santorini.   Kythnos is a harsh, rocky island, but has magnificently beautiful valleys, caves, beaches, archetypal whitewashed villages with narrow alleys and flower filled balconies, a wealth of churches, mineral springs with therapeutic water, some lively but harmless night spots, a ruined medieval citadel  and is the perfect place to do very little in classic Cycladic style.  The 22 km long coastline offers many small creeks and coves, with 125 beaches and  sea caves where lucky snorkelers might spot the monarchus monachus seal.
The eastern side of Kythnos features a number of beautiful sandy beaches in a series of coves at the end of valleys with tavernas. For just sea, sand, and sunshine –  and little else,  there are the beaches of Liotrivi, Skyliou, Simoussi, Gaidouromantra and Petrousa. On the west side both Agios Dimitrios and Flabouria are beaches with settlements and food. More remote beaches like Mavriaonou, Triblaka and Stifo are for those seeking solitude.
Kythnos is well-known for its local specialties and genuine recipes all created with local products of fine quality cultivated by the people of the island reflecting the island's history and Mediterranean tradition.( amigdalota (almond cookies) With lots of land for grazing their meat dishes include local beef, lamb and goat and of course like most islands, seafood is popular including the local specialty stuffed squid.)
Best For
The simple life, relaxing  somewhere serene and peaceful, with a little sightseeing to make you feel you have done something.
Well positioned for island hopping – either from Kea, or onwards to Milos,  Serifos and Sifnos.  Good traditional food .
 Worst For
Escaping wind in the high summer,   lack of international  shopping, dining  and other facilities and  amenities, lack of organized water sports, night life and boat hire.
Would Suit
Lazy families with small children (easy logistics and lots of beaches,) and those wanting to meet the locals. Perhaps a fisherman will take you out  on his boat.
Would not suit
Adrenaline junkies, and people wanting a more lively island with night life, and organized beaches with water sports and activities Visitors wanting an international scene, People wanting large organized beaches, and sophisticated dining and shopping.
Don't Miss
Loutra village (Baths ) where there are  hot wells famous for healing waters and maybe  even get a massage .
The  double-sided beach of Kolones and Fykiada  – one of Greece's most iconic and oft-photographed – a narrow stretch of sand connects what could have been an island, to the rest of Kythnos. The clearest and cleanest blue water you will find anywhere, with a couple of tavernas on each side, and a few trees that offer shade.
The small Byzantine Museum in the church of Ag. George in Driopida village.
In NW Kythnos, the ancient capital city, Vriokastro, inhabited from the 10th century BC until the beginning of the 7th century AD, when it was deserted by its citizens who moved to the Castle ,
The monastery of Panagia Kanala dedicated to the Virgin Mary of Kanala, who is the patron saint of the island.
Kythnos' two main villages; Chora the island's capital where a few shops sell hand painted textiles in beautiful colors, leather and wooden objects as well as ceramics, and Driopis, a small pretty village.
Activities
Diving, snorkeling, trekking, hiking and great scenery for photographers,
High Season
Being relatively close to Athens, in August,  the island gets its share of local Greek tourism as well as the yachting fraternity, which keeps the standards of food up remarkably well!
Low Season
Time it right and you will have the island to yourself, with a few passing yachts making for harbor in the evening.