June 29th
The Five Star Greece office has moved for 3 weeks to Ithaca with me – at this time of year everything is easier from Greece, as our role becomes more pastoral than commercial, looking after clients rather than taking new bookings. Well, that is the excuse.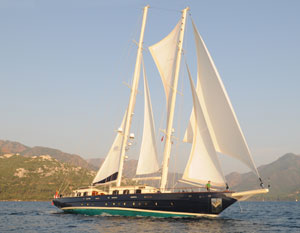 In confirmation of my pastoral role, I rang three clients this weekend who had just started their holidays in houses we had found for them, to see how they were getting on – all three gave glowing reports, but I think I must have caught Mr B. just after one too many cocktail on his Corfu terrace, as he wrote back, "Everything is wonderful Ileana. Really exceprional. The house is fabtastic. Thanks!"
Following Mr B's lead, this evening, we dressed up and had our cocktails on the "O", a stately and graceful sailing boat that had anchored in our bay, consisting of 35 meters of sleek blue wood, two tall masts, half a kilometer of polished gunmetal and varnished teak, deep pile carpets and a crew of 6 charming sailors and stewardesses.
I have seen many lovely boats, but this one had something unbelievably stylish; hanging over one of the teak railings was a monogrammed blue canvas rack for holding 10 pairs of flippers. Perfect. The elegant American clients raved about the food and the crew and the beauty of Skinos bay, and proposed a house swap with us and their house in St. Barts. I would certainly consider a swap with the "O", that is for sure, and we will add it to our portfolio along with a very beautiful English- owned Gulet that I also can't wait to show to clients.
You see, that is another reason I move the office to Ithaca, I would never have found the "O" in Harrow on the Hill…..