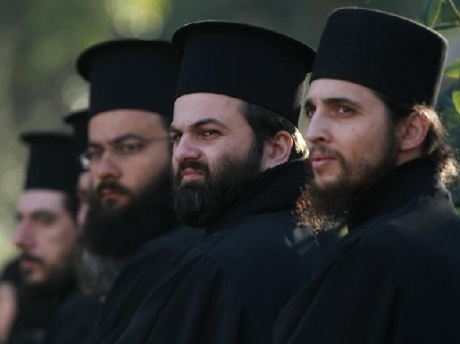 The journalist from CBS who produced the Sixty Minutes programme about Mount Athos a couple of months ago (see our earlier blog) travelled back there to deepen his rapport with the monasteries he had visited, and kindly took my two sons with him, who were soon dubbed Agents of the Devil by the monks – one filled out the entry visa form  declaring himself to be an Atheist which was a first for the Holy Mountain visitors book…
Getting them back  from Mount Athos to Ithaca was not straightforward,  even for Five Star Greece, and involved a ferry from Mount Athos, a taxi across Greece to the island of Lefkada and then a speedboat to cross from there to Ithaca. No word was heard from them for four days, and on the day we were to meet them, Captain Tasos started to get seriously annoyed. "Why do they not call?" he asked me, "How am I meant to know when to cross over and get them? Suppose it is the middle of the night?"
All I could do was reply "Patience, God will send us a heavenly messenger ( angel, or Angelos in Greek) ,  from His Holy Mountain to tell us – mobile phones are not His chosen method of revelation and there is no signal there.
By the evening, after I had told him ten times that an Angelos would reveal all if we had faith, and the joke was wearing just a little thin, we were all feeling a little frazzled. Then a phone rang and a crackly voice said "I am the taxi driver from Mount Athos, and I will be in Lefkada in 2 hours" I wrote down his mobile number and then asked for his name in case I had to call back. As I asked though, I knew what the answer would be.
"I am Angelos" he replied.
And so the Journalist and the Agents of the Devil were brought home by God's messenger safely, just as I had said. All it takes is a little  faith.