June 3rd
Architects in 19th century Berlin had an uphill struggle in their aspiration to recreate ancient Athens on the Spree. Ernst Ziller, brought from Germany to the Court of Athens by George 1st of Greece in 1860 experienced the ecstasy of sun-starved northeners exposed to the sunshine of Attica for the first time, and built almost 500 buildings in the neo-classical style that became the idiom demanded by the great and good of 19th century Athens – the King's Palace on Syntagma is his most famous. Ziller is responsible for what beauty there still is in Athens, and the National Art Gallery has put together a wonderful exhibition of his work. Open till the end of August. www.nationalgallery.gr
I took the 6.00 evening plane to Kephalonia – a tiny Havilland with 36 seats and two rather delicate looking propellers. One visible change since Olympic Airways went private, is that the fearsome moustashio-ed mother-in -laws and super-annuated peroxide blonde girlfriends who handbagged their way into employment as stewardesses, have been replaced. The most exquisite gazelle with huge black eyes and the grace of Margot Fonteyn had us all mesmerised as she explained so sweetly how to fasten our seat belts, and find emergency exits. I felt like asking her for an encore.
Kephalonia's long sandy coast with sea the startling blue colour of lavatory-cleaner spread out below us, and then I was driving across the cypress studded mountains to the little port of Sami where Artemis from Villa Skinos, ( ask us  at Five Star Greece to show you the weblink), was waiting with the speedboat to pick me up and take me across the Ithaca. Green, mountainous, gentle, with pink houses and tiled roofs, the Ionian islands with their Venetian heritage are a world away from the Aegean. Every now and then someone raises the flag of the Seven Island Republic (The lion of St Mark's with seven arrows in its paw representing Corfu, Paxoi, and the others) and agitates for independence from Greece. ( I, as a good Ithacan, flew the flag from our boat one year until my cousin who was head of the Foreign Office told me to take it down or he would have me arrested).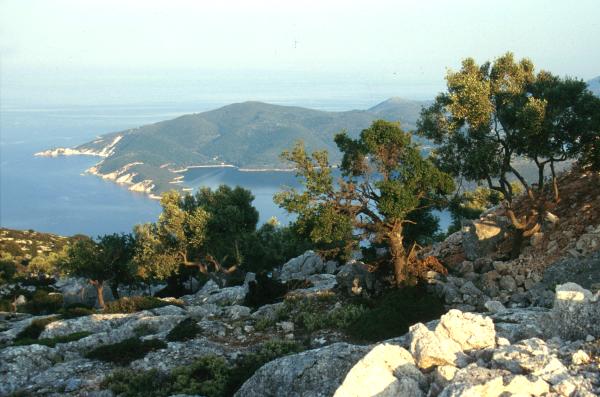 The good Skinos ladies had filled my bedroom with gardenias, and the departing guests had left a sweet thank you note. The Wifi was working, the Scops owl hooting outside my window, the shepherd had left me a soft fresh cheese made that morning, what more could one want?