May 22nd to 23rd
Evi and I turned up bleary-eyed at 7.00 in the morning at the port of Rafina for the hydrofoil to Paros. By 8.00 we still hadn't left which is very unusual for the hyper-punctual hydrofoils. "The captain's car has broken down and he is waiting for a taxi" said the second captain.
Rubbish said the Greek chorus of passengers. He was out late with his mistress and overslept and is making excuses. There was general agreement on this, so by the time the captain arrived (in his definitely not broken-down car,) he was faced with a fearsome barricade of stout and angry ladies, who shouted abuse at him as he boarded, observations about his virility, the virtue of his mother and the sufferings of his wife, till even his epaulettes drooped in complete submission.
A further delay in Mykonos when a large group of tourists who had definitely overslept were left behind and we had to turn back for them, and finally we arrived in Parikia, the port of Paros. Nothing puts me in a better mood than Greek ferries.
This even extends to the little Paros -Antiparos roll-on roll-off ferry. Regular readers will know that we wage an on-going battle of the sexes here, that gets played out every time between the macho ferry-men and women drivers, but this time, the unthinkable happened: A large and fierce-looking lady with dyed platinum hair and black roots, in a black Ford, refused to be driven deep into the usual corner reserved for women by the ferryman.
"No" she said. "You are ridiculous. Your stupid boat is empty and I will park here wherever I want." Followed by the usual observations on the sufferings of the man's wife etc. Evi and I, stuck in a tiny corner behind a lorry carrying tomatoes and eggplants, looked on open-mouthed with admiration at this act of rebellion, the ferryman crumbled and Black Roots remained triumphantly parked in the middle of the deck.
Women 2 – Ferry crew 0.
I realise that the theatre of life on Greek ferries is a particular obsession of mine that you might not share, and that you would rather hear about the houses you can rent, so, back to business:
Little Antiparos is preparing for the summer onslaught – freshly painted and not quite open, its sandy beaches are empty and quiet.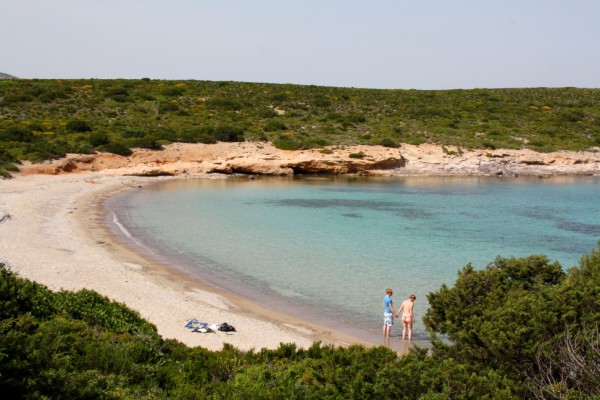 First stop Antiparos 6M – a charming, easy, slightly higgledy-piggledy beach house that borders Tom Hanks' summer residence, and then on Antiparos 13B – a vast property with a glorious pool that sleeps up to around 20 with immaculate interior decor and tidy low stone walls. Shame really that the ferryman was not there to see Evi reverse into one of the tidy low walls with a loud crunch as we left.
"I have never done that before in all my life" said Evi who prides herself on her dashing style of driving.  "Such a stupid place for a wall."
A late restorative lunch in an empty, blissed-out Soros Beach taverna with chilled music playing, a dog sleeping and tiny little pale blue waves very lethargically lapping the beach. Everything is yawning….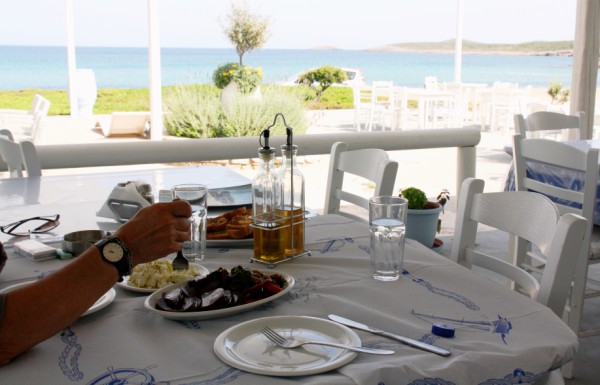 Back on Paros, (not a peep out of the macho ferryman who is probably looking for a therapist as I write), we stopped by Paros 1S to see the gardens in their full glory.  The owner who is beautiful and good, has blue eyes and green fingers and the house has one of the loveliest vibes that we know. Its location opposite Paros's "Blue Lagoon" is wonderful, and a string of little sandy beaches curves around the bay.
On to Naoussa, consistently voted one of Greece's most picturesque villages.
Just outside it is Paros 11H with its palm trees and chic decor – a combination of high glamour and laid-back American style. The owner who is made of the same ingredients was waiting for us with cocktails, and it was a very successful house inspection – the house was at least double as nice as I remember from last time.
I can't think how we got so lost afterwards in Naoussa, but we ended up going the wrong way down a one-way dead-end street that ends in a canal, where traffic was forbidden and a row of policemen was waiting at the bottom. Luckily they took pity on us and escorted the car through someone's private parking, up another traffic-free road the wrong way, and from there we found our way to the incredibly beautiful and picturesque piazza all in white and pale blue, with fishing boats bobbing gently in the water as a backdrop to the diners at their little candlelit tables.
The Stelia Mare hotel was completely charming even though we arrived at midnight in a bashed up car, and we are delighted to recommend it to people wanting a well-located hotel in Naoussa with a concierge that asks no embarrassing questions.
And so to bed.