Mykonos September 19th.
Five Star Greece goes to a wedding..
Just as well I left the donkey and straw hat behind on Ithaca –  Mykonos is en plein fẻte, with the biggest wedding the island has ever seen dominating the island. Bill Clinton is reputed to be there, and many, many billion dollars worth of guests. Sleek and shiny yachts are lined up in the harbour, with watchful crew holding binoculars. The big hotels have all been taken over, and at the airport, limousines with chauffeurs and darkened windows wait for their guests.
On the first night, Elia beach was taken over and turned into a giant beach party; a catwalk built across the sand for the guests to make a grand entrance, and Seal flown in to play for the party. Two days later, they were still clearing up.
The next night, Psarou beach with the famous N'Ammos beach restaurant was the venue, and James Blunt the star turn. Last night, down in Little Venice under the landmark windmills, Sea Satin hosted the final bash, and the Buena Vista Social club were flown in as the climax of the weekend.
I had a quick chat with the wedding organiser who must have lost half her body-weight and had a slightly wild look in her eyes, but had really pulled out all the stops, with spotlights on the windmills, streets closed off, (but prettily lit with lanterns so the regular tourists were delighted with the spectacle,) flowers everywhere, mountains of lobsters, pyramids of champagne, and a musician's stage built by the sea.
Sea Satin preparing for The Wedding..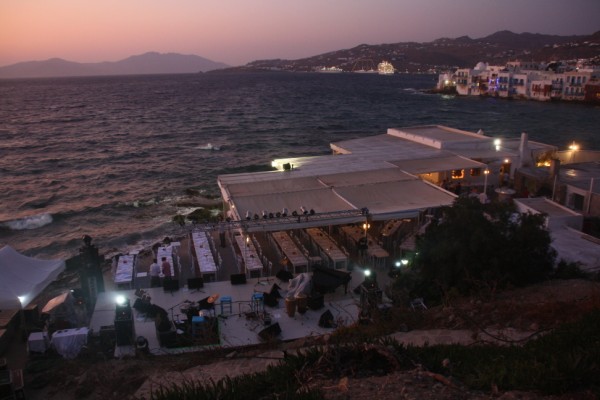 Our colleague Roi, who supplies us with concierge services, knows all the key people, and when I said how nice it would be to see the Buena Vista club live, she said in a rather Fairy Godmotherly way, "Ileana, you shall go to the party." Hubris, I thought to myself, looking at the security patrolling….
Mykonos has without doubt the best food in Greece, though not necessarily Greek food. We met for dinner at Acqua, on the water's edge in Little Venice where you eat to the sound of breakers foaming against the pavement, and Alessandro, the divine Italian chef looks after you as tenderly as a mother, telling you what you really feel like eating given that you had lobster macaroni for lunch, and what you don't feel like eating, although you thought you did. He then cooks it exquisitely, and is of course right – it is just what you felt like eating.
"Time to go," said Roi, and to prove her worth, go to the party we did, for a quick glass of champagne and a blast of Buena Vista who were having even more of a ball than the guests, who, after so much partying, could be forgiven for being enjoyably exhausted. They managed though to go on till dawn again.
Some wonderful new houses to add to our portfolio on Mykonos, one is a drop-dead chic private enclave a stone's throw from the picturesque Mykonos waterfront, (where the theme of the décor is donkeys, to my amusement – Daphne would love it – see previous blog,) one is a hidden rococo gem down on Psarou beach, and one is an airy and open white summer house above Aghios Sostis beach, which, in September at least, is peaceful and unspoilt, despite being only 15 minutes from town. Call us to find out about them.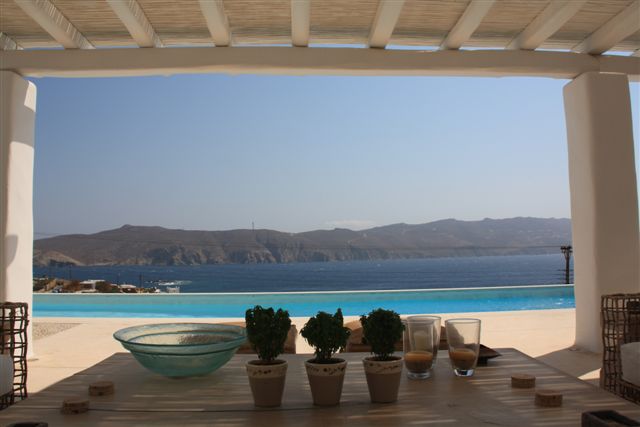 I dropped in on Lalaounis, the jewellers, to visit charming Edward Predergast who runs the Mykonos shop, and sometimes issues invitations to his chic little Lalaounis cocktail parties to our guests. Demetra Lalaounis and her sisters have kept up the finesse and profoundly Greek elegance that their father made his trademark, and we strongly recommend a visit there, with your, or even better, someone else's credit card.
The next morning I checked out of the Semeli – stylish without trying too hard, impeccable service and an unbeatable location in the Rochari area of town. The Seajet to Paros only takes 45 minutes, but Mykonos is a world that exists in its own beautiful, escapist, dream-like, cosmopolitan bubble, and crossing over to Paros is like returning to Greece from some strange and wondrous planet.