July 7th
Summer has set in now – long hot days with crickets chirping and a calm, warm sea. The oleanders and agapanthus are in full bloom, with fat bees buzzing around them and birds rustling in the trees.
To cool off, we took the boat and sailed to a secret bay that the other boats haven't yet discovered. Crystalline water in a bay surrounded by smooth walls of rock, with fig tress growing at improbably angles from cracks in the cliff, and goats sending down showers of stones as they scramble along the top. The white pebbles of the beach turn gold and then pale blue as they slope down under the water, and small grey fish dart above them like shadows.
The boys went gathering sea urchins, and Captain Tasso did his usual magic tricks in the Allegro's galley to produce tender little calamari in a crumbly batter, salads, little antipasti of tiny anchovies, octopus in olive oil and vinegar, fried feta cheese with a squeeze of lemon, and of course, a platter of prickly black sea urchins with coral pink roe that you scoop out with a teaspoon and eat, the pure taste of the sea.
After lunch, we floated around the bay on our luxurious new foam pool floats – they cost their weight in gold – literally – to ship from Florida which is the only place in the world you can get them, but my, they are worth every penny.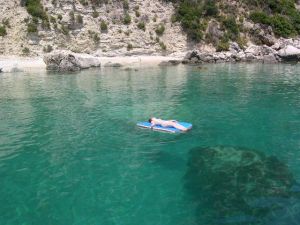 A siesta in a dark shuttered room, followed by peach pie for tea on the veranda, and then the best swims of the day as the sun starts sinking over the mountain, the water lies motionless in the bay, and utter peace reigns.
The evenings are very warm, so dinner al fresco lingers; a cousin who used to run the Greek Foreign Office until his retirement this year talks Turkey –again, literally – with the State Department Friend and the 60 Minutes Producer, whose film on The Greek Ortodox Patriarchy in Istanbul has just been aired (see www.cbsnews.com) and which got the Turkish government so hot and bothered that they actually changed their policy to the Patriarchate. The sky turns a deep dark blue, and then all that is left is to have coffee and chilled mastiha on the terrace, listening to music and watching the thick bright patterns of the Milky Way appear. It is statistically impossible amongst all those stars and all those suns, for us to be alone in the universe, and the thought that there might be other Skinos's on other planets is very cheering.
You always end up star-gazing in Greece – and  from our villas, it is of course Five Star Gazing….