There is good food, there is bad food, and OK food. I can cook  all three kinds, especially the last two. Then there is the food where you close your eyes and let something magic happen in the universe. I can't do this at all, but chef Costas Bouyiouris  can. I will just say "Menu Dégustation" at the restaurant Iliovasilema on Galissas beach;  make sure you have the pearl grey taramosalata with grass-green flying fish roe scattered on top, and pray that he never decamps to Mykonos where one might rather expect to find this kind of exquisite Mediterranean cuisine and at triple the price..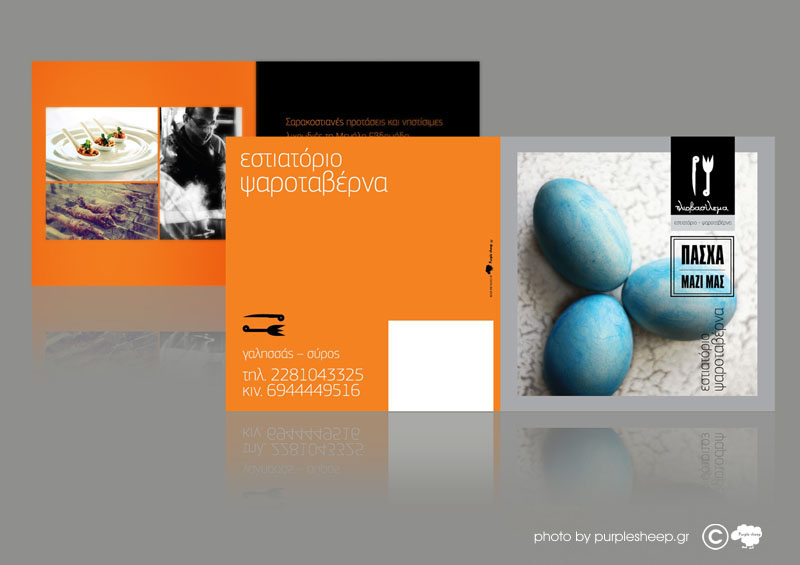 Mazi, Allou Giallo in Kini, are right up there as well. Startlingly fine menus and original ways of using fine, local ingredients.
Syros is soaked in history. Antonis Krinas is the scion of an old Syriani family and a local historian. I had tea with him in his nobly decaying 19th century family villa in the pine-shaded hill-side village of Piskopio. The villa is set in 7 acres of parkland with ancient stands of trees, cypress alleys, balustrades, rose gardens, wisteria-festooned pergolas,  bushy palms shading the pool and a belvedere with views down to the harbour.  A couple of peacocks strut through the grounds, and an 8 year old girl dressed as a fairy flits around; "Close your eyes and I will do some magic!" What with the peacocks,  the overgrown garden, the cat sleeping in the fountain in the goldfish pond, the family portraits, the chandelier made of peacock feathers, the gilded chairs,  the improbability of the whole thing on a small Greek island, I believe her and close my eyes. "There!" she cries delightedly, "Snow!" and tosses armfuls of ash from a bonfire of vine cuttings in the air, which float down slowly. "Annoying child," says Antonis lovingly.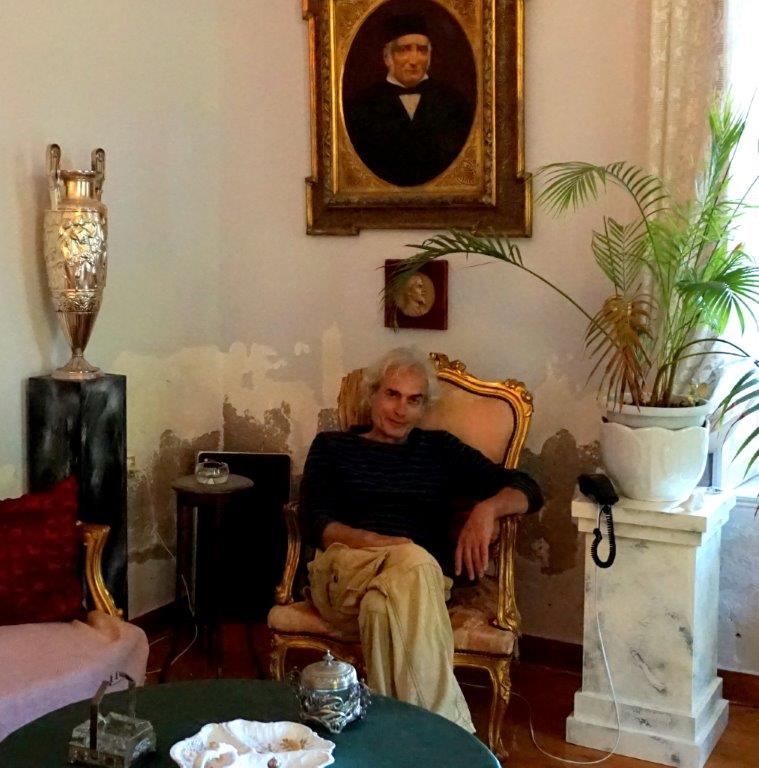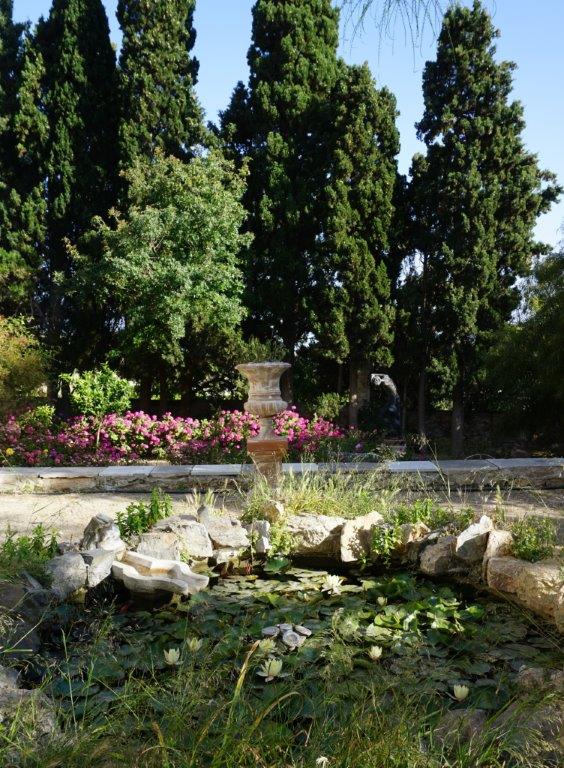 Syros was the Switzerland of the Eastern Mediterranean.  A mixed Catholic and Orthodox population, the Syriani were determined to stay neutral and not belong to any great power.  Deft raising and lowering of overlord's flags at the right time meant that the Russians, Ottoman Turks, Greek Revolutionaries, British and French gave up trying to break their neutrality, and turned instead to  shipping their wheat, silk and flour  to eachother through Syros' warehouses, bringing prosperity and a level of culture to the island that was unparalleled in the  area. The noble mansions and public buildings of Syros testify to this, the monuments in the cemetery are  of  fine workmanship, and there is even a small replica of  La Scala which still hosts high quality musical performances.
At  one point, Syros was powerful enough to threaten Lord Palmerston, the then prime minister of Britain with an embargo on British ships if he raised taxes on Anthracite, and Palmerston had to explain to Parliament why he had changed his mind and withdrawn the tax. Or something like that;  the peacocks were quite distracting, and my Greek  doesn't often have to stretch to 19th century  international diplomacy.
With its  own airport, easy access via Mykonos,  and great connections to the other Cyclades, Syros is poised to be the next hot destination for  discriminating visitors and  those in search of their own Greek island home from home, and  savvy investors are quietly buying up the best things on offer.
Five Star Greece has the most refined and eclectic collection of houses and villas on Syros, reflecting the fascinating mix of styles, people and cultures that all rub along happily – Grand summer homes, European summer visitor retreats, artist's modernist masterpieces, 19th century waterfront villas, and easy  family beach-houses. Prices are reasonable and guests can expect to be enchanted – even if they don't encounter an 8 year old fairy who can magick up snow in summer.