30th May
Santorini continued;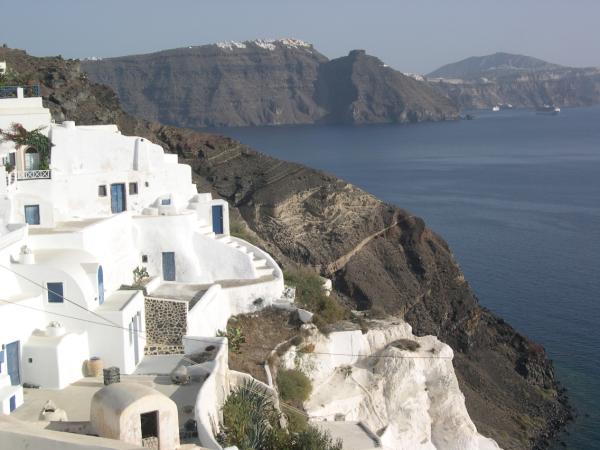 Morning visit to a house that I saw years ago and loved, but was in a dilapidated state – the Astra Hotel has now taken it on and refurbished it for guests wanting total privacy and what must be the only Caldera view on Santorini where no other house is visible. Sparkly bathrooms and acid colours contrast with the dark red of the cliff side. The villa should do well.
I dutifully checked out a couple of hotels in Oia to confirm to my complete satisfaction that Perivolas is my favourite, and then drove to Imerovigli. Eleni Tsitouras has added a pool to the lovely Tsitouras Collection, which, with its blend of cave dwelling architecture and neo-classical interiors, is truly wonderful – The Empress Josephine meets Fred Flintstone. The pool is stunning too.
I was invited for dinner by some friends who have rented Five Star Greece's stupendous, wonderful Villa Santorini 1V just a few minutes' walk along the crater rim path. The view is if anything even better than from Oia – the arrangement of islands spread artistically across the water is even more aesthetically pleasing and the fingers of sunset are nicely splayed around the great rock of Skaros. The evening was hot and still, so we ate outdoors. One of the group told me that the sleepy young vampires from the Santorini Rock house are in fact members of Greece's top band at the moment –Oneirama –  Sorry boys!