May 28th
Morning visit to a wonderfully professionally run house, great staff, dedicated concierge, terrific cook, 6 bedrooms, and lovely views.
Lunch at O'Bata – excellent octopus braised in wine – with a local partner, during which we chatted about which owners were stealing clients, which owners were undercutting the agents, which agents were undercutting each other, which agents were stealing owners, which agents were stealing agents and which clients were stealing the towels. To say nothing of which cleaning ladies were stealing whose clients from which houses to give to which owners, and which agents were stealing whose cleaning ladies to give to which owners, and which owners where double crossing which agents and whose agents were double crossing which owners……..I had to take two aspirin by the end, and still haven't quite understood what is going on….
It reminds me of a story I heard, where a German Intelligence officer said after the war that German intelligence had failed utterly and completely in two countries; Greece where everybody talked all the time, and nothing was true, and Japan where nobody said anything at all.
Feeling in need of a little Japanese-ness, I dropped by Nammos at Psarou beach to clear my head, but the Saturday party mood had already started with throbbing music, bodies crushed like packed walruses on the beach, and people dancing between the tables, so I drove off to Lia beach where you can still hear waves rippling on the shore, and La Luna taverna plays soft, chilled music to the few souls trying to get away from it all.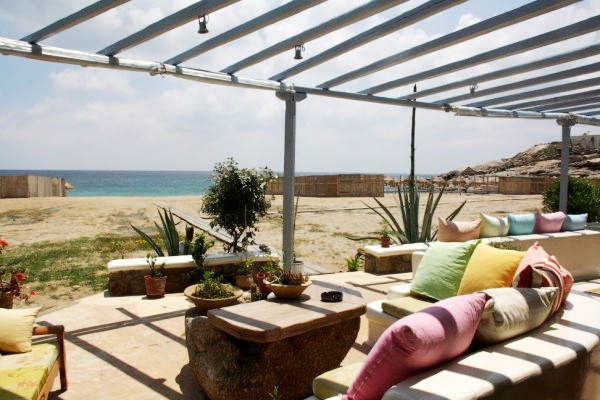 It also has the huge advantage of not having the sunset. Sunsets are all pretty well much of a muchness – I infinitely prefer to look east to where the light fades through turquoise, lavender, opal, and dove grey before a star comes out.
Just above Lia beach, Villa Mykonos 2AK and its lovely owner are putting me up for a couple of nights. The house has a warm and peaceful vibe, open views over the sea and sky, and it smells of freshly-washed linen dried in the sun, which has to be one of the world's great smells. It is above Lia beach and where I would choose to stay if I were just with my family. The owner cooks divinely and has that rare thing – sincere and loving hospitality that has nothing to do with money and everything to do with a sweet heart. I know that any clients we send here will be cocooned and coddled to hearts' content.