June 1st
The Five Star Greece villa inspection tour continued;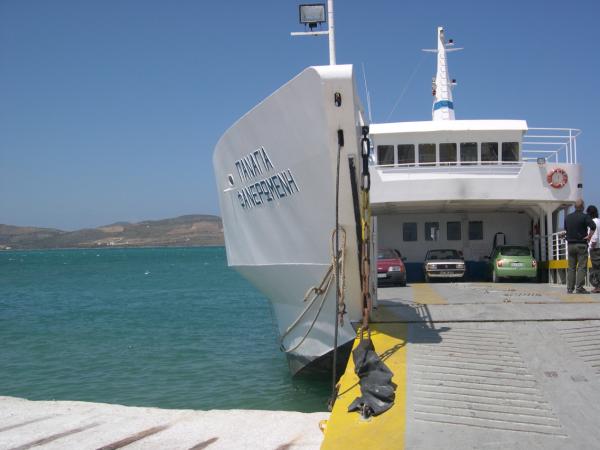 The wind finally got up last night and the heatwave broke – luckily,  as there were no real highlights of the day,  apart from a hotel villa that shall remain nameless, that was so unbelievably over-priced that my ears nearly fell off when I heard what it cost.  "Are you at least going to cut down that dead tree in front of the terrace?" I asked.  "Cut it down??" spluttered the manager, "the decorator just charged  a fortune to uproot it from where it was and place it here – it is feng shui.."  Oh, well in that case, it is lovely..
We zipped over to Antiparos to check on a house we already have. The little  roll-on- roll-off ferry was completely empty but the sailor did the usual Greek  macho ferry-man thing when they see a woman driver, of making you reverse into the smallest and most awkward corner of the deck so they can watch you struggle.
He then signalled that we should walk over to him to buy our ticket as he was much too busy to walk to us – Evi put on a theatrical limp and started hobbling over to him, at which he finally did the right thing and brought us our tickets. I hid under my hat  and pretended to be asleep in case he wondered what sort of bitch let her crippled companion get out to fetch the tickets.
A very long day, and the two hour Highspeed ride back to Athens was a welcome rest. We docked in Piraeus in the dark,  as fat, warm drops of rain started to fall, drying instantly on the hot asphalt. The South wind which is the one that has been blowing all day, is the one that Mediterraneans moan about the most – it brings rain, headaches, flies and sickness they say – I think it is lovely, but as Greeks never fail to tell me, I live in London, so what do I know.