Paros beaches are fun, plentiful, sandy, safe, clean and  get rather full in summer. Here are some ideas  for getting away from them for a day or two.
THE BYZANTINE ROAD
Through Paros' green and flowery June meadows,  along hillsides and down into cool valleys, a path of weathered, grey marble  flagstones meanders from the pretty hillside village of  Lefkes to Prodromos, a small, old, fortified Cycladic settlement.  This is the  Byzantine Road, built about one thousand years ago as part of  the main thoroughfare across Paros  from Parikia to Piso Livadi, at a time when the Aegean Sea was infested with pirates, and the inland village of Léfkes was the protected capital city. A network of cobblestone streets linked it to the other villages in the island as well as the ports.  Today, the Byzantine Road offers a lovely and only mildly strenuous amble that covers 6 or 7 kilometres in a couple of leisurely hours, crossing the island's interior, with the prospect of  a picnic under a shady old olive tree on the way, and an ice-cold beer on the beach at Piso Livadi  at the end of it. The charm of this excursion is the romantic notion that you are treading a path trodden over one thousand years ago by ordinary farmers, tradesmen, shepherds, gazing on the views they gazed on, hearing the sounds and smelling the scents that they smelled. Little has changed.   The beginning of the road is in Léfkes, which is worth exploring for its pretty cobbled lanes, windmill and peaceful graveyard whose  reverently maintained tombs and headstones are carved from the famous white Parian marble, the same marble  from which was carved the Venus of Milo.   Just after the Church of Aghia Triada, there is a sign saying Byzantine Road and a white stone  to mark the start of the route. The route gently descends through olive terraces and fields of  myrtle, wild flowers,  sage, thyme, oregano, crosses a dry stream bed over a little bridge, ascends to the hilltop with far-reaching views before turning down again to Pródromos.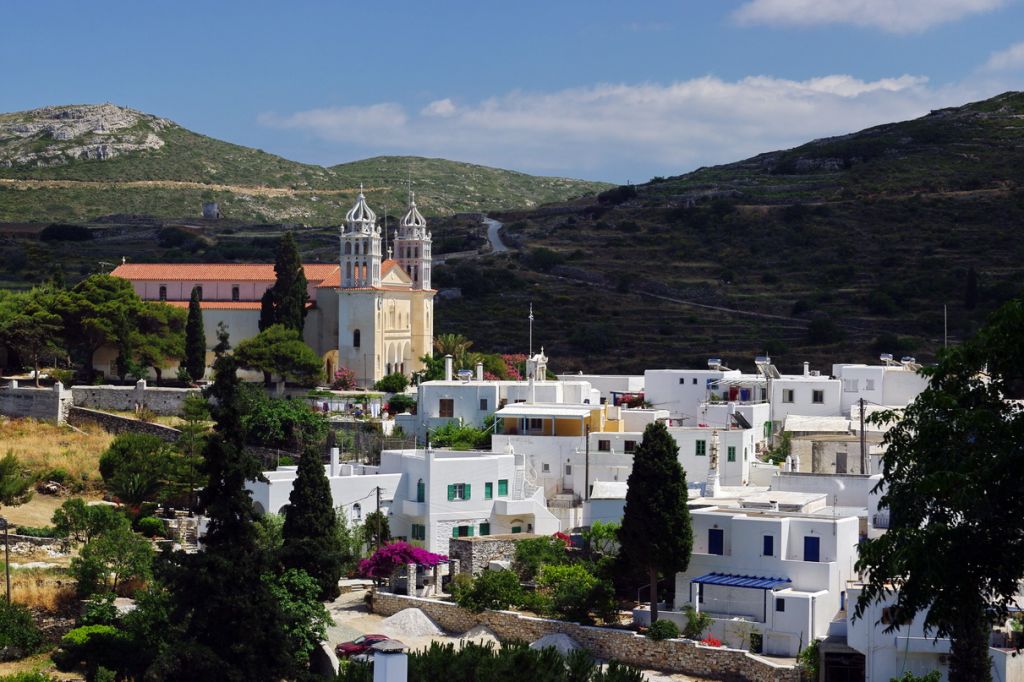 AGHIOS ANTONIS
In the same part of the island, a beautiful excursion is to drive up the conical hill atop which sits the peaceful old monastery of Aghios Antónios and the ruins of the Venetian castle at the top. Here, at the highest point of  the island, you experience the utter peace of the monastery's  whitewashed courtyard, overgrown with wild flowers,  and olive trees blowing silver in the warm wind, with the azure sea  and sky melting into eachother somewhere below you. The pretty harbour of Molos is below, with the quiet beach of Kalogeros to finish the expedition.