Quirky, classy, impossibly picturesque, Hydra is one of Greece's truly magical spots. A great barren mass of mountain with steep sides, a hint of whitewashed church on the summit, and the spectacular bay in which the car-free town nestles like a little Portofino. Transport is by donkey or by foot, and the people who live in the highest-lying houses have enviably toned and trim figures…
Hydra has always attracted artists, interntional laureates, bohemians, writers, Athenian nobility,  and oddballs – Leonard Cohen moved here in the 1960's, and fitted right in with the off-beat and laid-back glamour of the island. Brice Marden is now a permanent fixture.
The island has in the last few years made a name for itself on the sharp edge of the art world. Uber-collector Dakis Joannou founded the  Deste Foundation, which  takes over an old slaughterhouse and transforms it every year into a showcase for a major new artist.  Three years ago he inaugurated it with an epic performance collaboration between Matthew Barney and Elizabeth Peyton. The next year it was followed  by "We", a sculptural installation by Maurizio Cattelan.
This June, Deste hosted more than 300 international guests for Doug Aitken's video-enhanced stage show set on a repurposed freight ship, Black Mirror, starring Chloe Sevigny. This was an atmospheric meditation on contemporary life that combined video installations and live theatre performances starring Chloë Sevigny, gospel singers, strippers and musicians. The LA-based band No Age set the mood, aided by a group of Greek percussionists and  the balmy Greek island night.
I am copying the New York Times article for you  by Kevin McGarry, as it gives a lovely picture of Hydra's very special atmosphere:
"It was amid scores of stray kittens, luggage-hauling donkeys and posters of Sevigny languishing in the 100-degree July heat that I arrived in Hydra for an altogether more intimate art tradition: the opening of the British patron Pauline Karpidas's waterfront gallery, the Hydra Workshops. For 13 consecutive years, the London gallery owner Sadie Coles has curated a summer exhibition here with Karpidas, showcasing young talents like Urs Fischer, Wilhelm Sasnal and, last year, Sergej Jensen.
This year's edition, mounted with the support of Karpidas's son Panos, features work by three American artists: Frank Benson and Matt Johnson, each of whom contributed Hellenic-inspired figurative sculptures, and Mark Grotjahn, whose swirling wall works offered the toga-clad figures something mesmeric to gaze upon. Johnson's two pieces are made of bronze and cast in the likenesses of the goddesses Artemis and Athena, made to look ancient through artificial corrosion and bored holes, as if extracted from a sea wreck. Benson's is a lifelike modern woman wearing a designer dress and sunglasses, whose stance and silhouette nevertheless hark back to Classical times. The sculpture's body, dress and shades were digitally fabricated from different artisanal stones and metals, the finished surfaces of which uncannily mimic qualities of flesh, cloth and glass. The piece weighs in at half a ton, and the evening before its delivery the artist promised a spectacular show of donkey might, anticipating how the thing would even make it from the boat to the gallery without a forklift.
A couple dozen mostly British and Texan collectors, curators and friends ― a refined yet suitably rambunctious regional pairing ― gathered for the opening festivities, punctuated by New Yorkers like Clarissa Dalrymple and Nate Lowman, a Hydra Workshops alum, whose ever floppier hairdo befitted the breezy, panoramic sunsets. After the exhibition opened, I discovered we were not alone on the island. Diving into the water at a cliffside bar around midnight, I surfaced within range of Victoria Bartlett, who had just arrived on the hyrdofoil with a new crew including Maria Cornejo and Mark Borthwick. Camps merged the following evening, my last, for a squeaky musical performance by Borthwick at the outdoor movie theater in town. Given such a small world drawn together on such a small island, I think the big question left on some minds was: Where do they keep Leonard Cohen?
Where does one stay on Hydra? The Grand old Lady of the island is the Bratsera, where guests have elegant breakfasts around the pool in its colonnaded courtyard. A converted sponge factory, the hotel offers Hydriot history, charm and location although not the last word in luxury. This is the place to see and be seen though. Those in the know, and those wanting to stay a week, should rather flee the town and retreat to a villa on a little beach in a nearby bay, reachable by water-taxi or mule, and come and go in style as the mood takes them.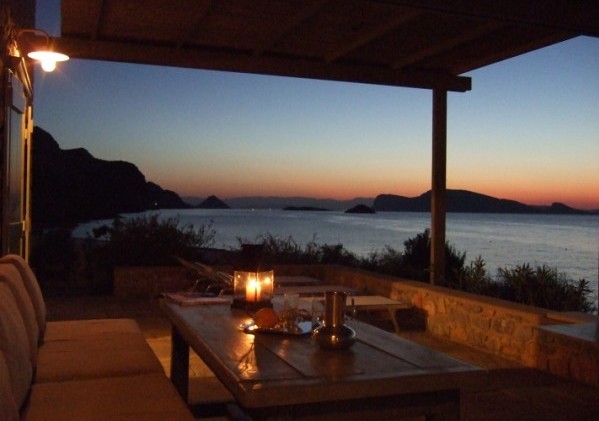 As June is also the great annual festival of the Miaoulia,  (watch out for a future blogpost about this,) you do need to plan ahead if you want to visit the Deste Workshop event.