May 27th  Mykonos
Breakfast at La Luna on Lia beach, forgot my wallet but the chill factor there is such that the manager just said to me "We are all human darling, pay me when you can".
A cheerful day rattling around a still rainy Mykonos with Roi, our Mykonos colleague. She is thin, drives like a demon, complains bitterly when the temperature dips below 20 degrees as it has today, and was wearing après ski gear and huge furry boots.
A very high hit rate though with the villas – A really good villa down by the sea in Aleomandra, with 6 bedrooms and two little beaches just 50 metres or so away.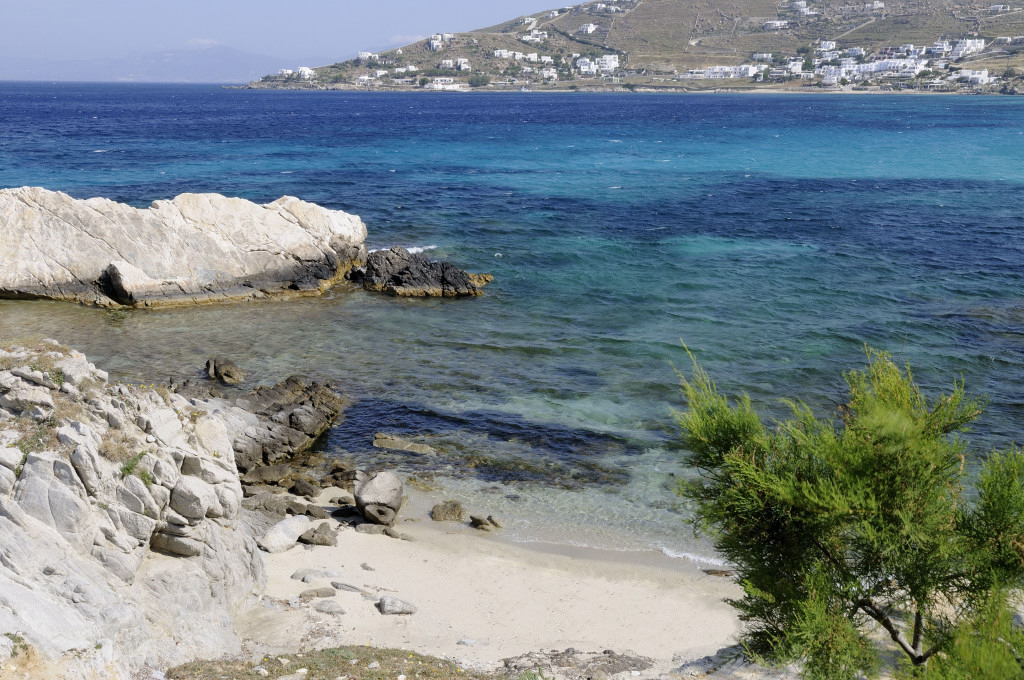 Another jackpot hit with a gorgeous house higher up in Paradisio. A great slab of rock left by the architect juts out in the entrance hall, and the stone theme is continued with rough stone basins and black pebble floors in the bathrooms.
Lunch in Dublin down on the beach of Aghios Stefanos, and then a couple more houses.
Back at the Belvedere in its glamorous evening dress, over Lychee Mojitos, Edward, who works at Lalaounis and know everyone and everything on Mykonos, and I agreed, that our guests would enjoy the unofficial Lalaounis club of Mykonian insiders, so will work out a way for Edward to extend his expertise to those of you who take any of our villas. This seems to include everything from a glass of Champagne at Lalaounis, to Edward escorting you on a prolonged club-hop. He outlasted the last guy by several hours. Mykonos training I suppose..
I went for dinner with Roi, (dried out by now, boots and all) and we gossiped over all things concerning Mykonos real estate at a great restaurant called Bakalo,which has refined but simple, good Greek food and plays retro Melina Mercouri songs.  The retro feel is enhanced by the decor which consists of classic supermarket goods in artful Italian displays. Little glasses of home-made scented geranium liqueur to finish with. The usual Mykonian chatter in five languages, and then home to the Belvedere –
Nobu opened for the season this evening, so a small crowd was gathered on the Belvedere terrace, trying hard to glitter. One girl clutched her accessorised white fluffy white dog so tightly to her white gauze top for warmth as gusts of rain  gate-crashed the party, that its eyes started bulging. She should get a pashmina really