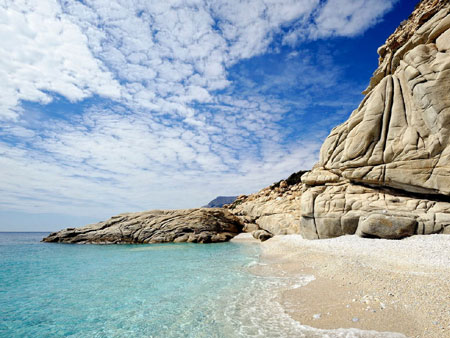 No-one has written a better guide to the Greek islands than Dana Facaros – "The Cadogan Greek islands  Guide." Erudite, funny and soulful. We have cribbed from it so often, that  to make amends, we  have offered Dana a platform here whenever she wants,  and  are honoured  whenever she accepts!  She writes this time about Ikaria, the island of her father, made briefly famous by the New York Times and other  magazines as "The island where people forget to die". Funnily enough her blog  is in the same spirit as the Best Taverna blog of last week… we are clearly Soul Sisters. 
http://www.theguardian.com/world/2013/may/31/ikaria-greece-longevity-secrets-age.
This article reminds me of a fabulous passage in the 1880's travel diary of Theodore Bent who bravely island hopped when the Aegean islands were really rather more primitive than they are now- he recounts visiting an island that I shan't name,  and wondering at the longevity of the natives – "Doesn't the island get overcrowded" he asked,  "If everyone lives to over 100?"
"Not any more,"  came the answer from a young whippersnapper of 70 odd years – "It used to be a problem, then we started pushing the very oldest ones off the cliff, and now it is OK."
Over to you Dana;
I'm a sucker for musicals, especially South Pacific. But when Bloody Mary bursts into song about Bali Hai:
"Here am I, your special island
Come to me, Come to me."
I immediately think of my special island, Ikaria and long to hop on the next boat.
I'm prejudiced, of course. My dad comes from Ikaria, not far from the place where Ikaros, who dared to fly too high, plunged into the sea; the locals have such incredibly long memories they can show you the exact spot! For centuries Ikaria was best known, if it was known at all, as an island of exile for troublesome Byzantine nobles, and for leftists in the 20th century. Even the famous composer Mikis Theodorakis did time there.
Now it's become quite the celebrity, the island of longevity 'where people forget to die' according to the New York Times. Of course researchers are determined to find out why. Is it the diet, the lack of stress, or the mountain tea?
I think it's because Ikarians know how to have fun. If that isn't a good enough incentive to live to be a hundred, I don't know what is. The island's paneyeria—the saint's day festivals—are legendary. The last one we went to ended at noon the next day.
The best thing is that you don't have to be Greek to have a special island. In my family's village there are Parisians, Italians and New Yorkers who have bought houses or who rent the same property every year. They don't have a drop of Ikarian blood but are warmly welcomed back each year, gossiped about just like everyone else, and form an integral part of the community.
I wish I had a penny for every time I've heard people say: 'I don't know my next door neighbour in London, but I know everyone in my Greek village.'
And that, these days, is special indeed.