Lefkada is an island that rewards the explorer.  One of the Ionian islands off the west coast of Greece, it is connected to the mainland by a causeway, and like its better-known neighbours Paxos and Corfu, looks west towards Venice rather than east. Overlooked by everyone other than yachties, who have turned it into the heart of Greek bare-bones sailing holidays,  its spectacular coastline was possibly Greece's best kept secret, no longer though; nearby Preveza airport plus a super highway that runs all the way down from the Balkans, have made it easily accessible by air and by car,   and Lefkada's sublime, white sandy beaches with powder blue water and chalky cliffs, that run for miles and miles up the west coast,  are now world famous.
Once you get off the heavily-beaten track though, away from  the coastal developments of Nidri and Kathisma beach, Lefkada's  tranquil and airy mountains reveal true gems of  Old Greece, and could be the start of a  new love affair for those looking for their own secret island. Danae, the youngest member of the Five Star Greece team, set off with a car and a map to explore:
"The most stunning roads lead up from the sea and curl around the mountainside to show breathtaking views of the open sea with nothing else in view.
The roads are fun to drive and well marked out and the most basic car can do them. As you get higher and higher the scenery changes from grassy scorched earth roadsides to carpets of flowering purple thyme growing in and all around the roadside. Pines, cypresses, plane trees and chestnuts start appearing and I found myself within minutes going from stark coastal vistas to driving down avenues of plane trees with sprawling fields on either side with farmers at work in their tractors. The rocks which jut out of hillsides are dramatic and barren with little puglian-esque 'trulli' type ruins sprinkled around.
I drove through many villages past quarries and monasteries.  I went to a textiles museum in Karya where a young man took me around the old weaving family home, which is perfectly preserved since the 1800's. He told me about the famous weavers of Lefkada and showed me how they made them and I even saw old embroidery from hundreds of years ago. This museum was 2 euros and such a charming and interesting find in a tiny village where I can't imagine many people go. There was a museum of the history of the gramophone, which was sadly closed. But it shows what a different style they have in the mountains – they are proud of their heritage as Lefkaditis, and rather than looking to make quick money, they build a museum like this for a couple of euros and give a half an hour tour with such pride and enthusiasm.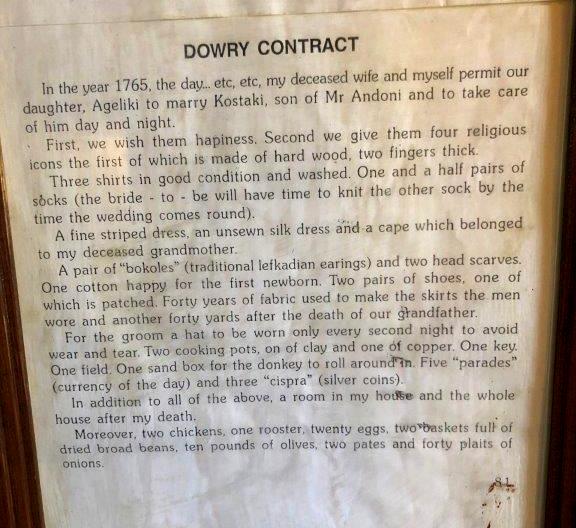 This one is particularly touching.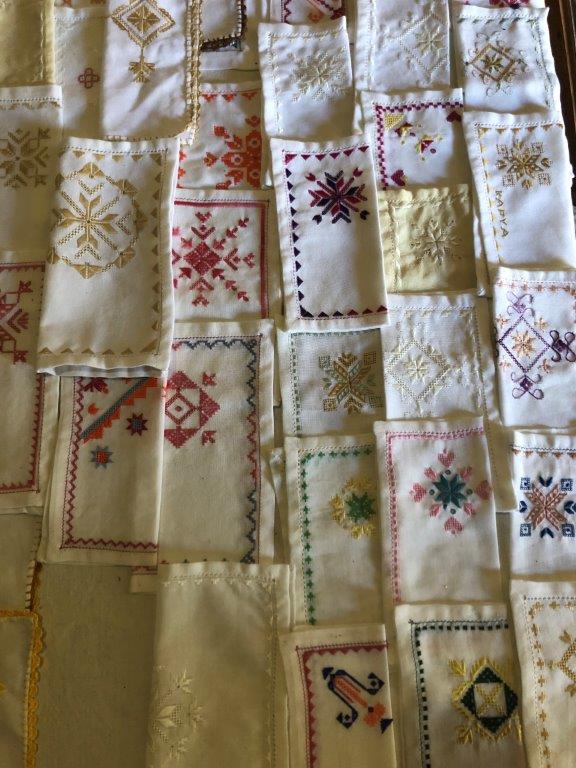 As a mountain lover, I always try to find the highest point of every island I find myself exploring. The summit of Profitis Ilias (which is by the way commonly the church at the highest point of most islands in Greece) is a must-see on Lefkada. It has views of the whole island and a wonderful drive up to the monastery.
10 minutes from Prof Ilias is my favourite village – Eglouvi, shaded by trees this village has a beautiful old piazza with marble floors surrounded by chestnut trees, tiny wrought-iron gas lampposts from the 1900s and choruses of  cicadas serenading you as you sit in the square. There are only locals, mainly older people who sit for hours on end playing backgammon and drinking coffee. The air  is much cooler higher up and the heat doesn't affect you here.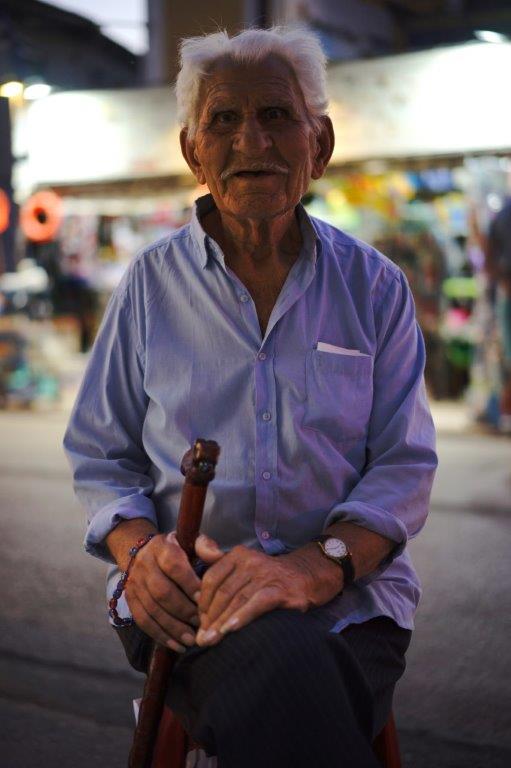 Alexandros is a ghost village – it has maybe 50 / 60 houses all old stone buildings, well preserved for the most part, completely abandoned. Not a single inhabitated house in this village and fascinating to visit.
Vavkeri
I had been driving all day and arrived, starving, at "Platanos" a taverna in the little village of Vavkeri which is run by a husband and wife who don't speak a word of English, and opened in 1807.  Just after I had sat down and opened the menu I realised that I had spent all my cash that day and only had credit cards with me. Knowing that this village had no ATM let alone banks, I asked the wife if they accepted credit cards. They didn't the wife said sadly. I got up, thanked her anyway for her time, and said that since I had no cash I wouldn't be eating but that I would try and visit another time since the place was truly charming. The taverna was completely empty aside from me and a cat stretched out in the dappled light of the plane trees around us and the wife told me firmly to sit back down and order something. I repeated that I had no money and would be leaving. She told me that I looked hungry and that she wanted to cook for me. She said that she wouldn't let me leave until I had eaten something and I should chose something from the menu instantly. I realised that I wasn't going to be allowed to leave without eating and so I chose some 'tiropitakia' – little local cheese pies from the menu and waited obediently to be fed. The pies were of course delicious, but what made the moment was being in such a beautiful place, all alone ( in July!) in this charming mountain village, just me and the cat, eating warm, freshly homemade cheese pies after a busy day, surrounded by plane trees, cicadas and birdsong. I have had the privilege of travelling to many places around the world, but nowhere do you find people with hearts like the Greeks. There is a deep and profound generosity of spirit and hospitality that is inextricably linked with the Greek psyche that I have not yet found in any other culture. This kind lady had no other customers, and still opened up her kitchen just to feed me knowing she would not be paid for it.  It is kindness like this which you can expect to find at the heart of the Greeks, who never cease to amaze me.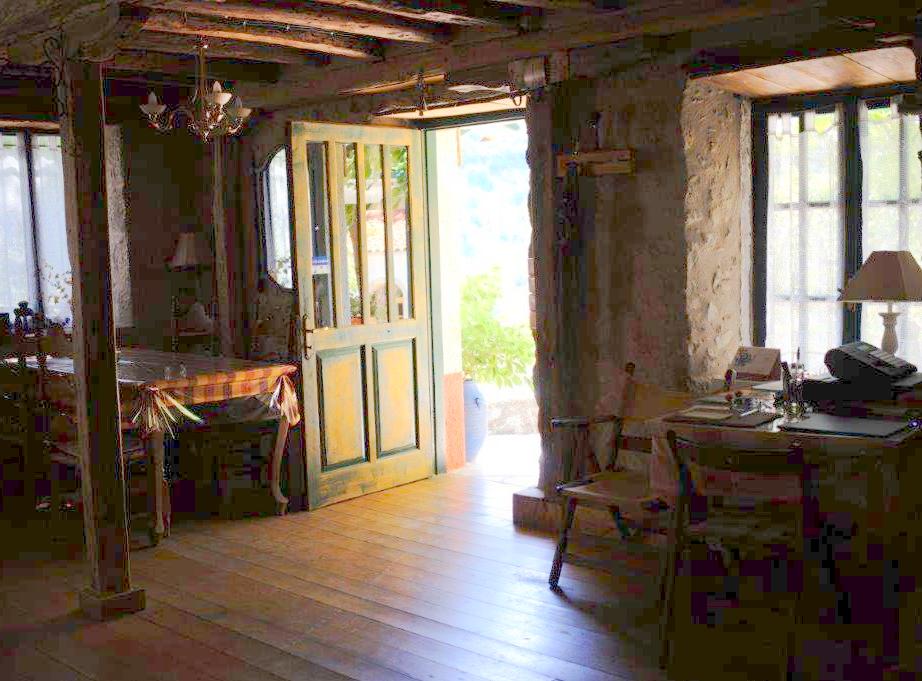 Away from the sea, Lefkada's nature takes over again:
Watch out for the mountain honey-sellers
Exantheia is a small oldish village with great views and breathtaking sunsets, popular with tourists and close to the west coast, is where Rachi , ( a new favourite cocktail and dinner spot ) is situated
Kalamitsi is also an easy and simple village to visit from Ag. Nikitas
Lefkas Town   It is clearly the heart of sailing in the Ionian and has a huge harbor where you can see the mainland right behind and cars crossing over the land bridge. There's something quite romantic about this juncture of mainland and island, and to me it gives Levkas Town a surprising gravitas otherwise unwarranted. The restaurant and bar scene is excellent here, with some very interesting and traditional architecture to be found too. Kite-surfers can be seen flying through the air while you sit by the waterfront at dusk and maybe it is this activity along with the vast amount of yachting life which gives this town its rather chic buzz.
To sum up Lefkada – the beaches are naturally spectacular, and the life and soul of the island can be found well and thriving up in mountains, where hopefully it will be safe for a few more years at least as it is beyond charming and beautiful up there. Renting a car and exploring this island would be a must for me, and should be recommended to everyone who goes here."
To rent a villa on Lefkada and explore the magical hinterland, contact us at Five Star Greece.