20th September
That's enough jet-setting for one trip.  I said that arriving in Paros from Mykonos is like returning to the real world after an escapist dream, but in fact, an Italian film is being shot here by Berlusconi's company Medusa films, called "Immaturi – the Journey," which is a sequel to the hugely popular "Immaturi", starring Paolo Genovese. I went to Naoussa for sunset to take pictures and meet up with our Paros concierge, and found the harbour lined with film trucks and cranes and "bellissimo this" and "bellissima that," "Ciao amore's," "Ma no, t'ho gia detto, managgia, non bevo sto caffe Greco – 'na schifezza…" and lot and lots of "Zitto, per piacere, per piacere, PER PIACERE, ma cavolo non capiscono??"
Slick –looking Romans in pink Lacoste shirts and elegant loafers were directing a brown clutch of weather beaten Parianoi seaman to sit at the waterfront coffee shop tables in their captain's hats, drink ouzo, play with their worry beads and discuss politics … as if they ever did anything else anyway, and to get paid for it even! Two fisherman had been paid to sit there fishing, the harbour had been purged of anyone ugly, (whatever else one says, Romans have their priorities right,) we were graciously allowed to sit there and drink as well as long as we didn't look at the cameras, and all the prettiest little fishing boats had been commandeered as backdrop, (again, the captains were most appreciative of being paid to leave their boats where they leave them anyway, and not go fishing..) One lucky captain's boat had been chosen to host a group of beautiful girls with lots of long dark hair and not much on; he had a dreamy look in his eyes, and was certainly not looking at the cameras. Far from it…..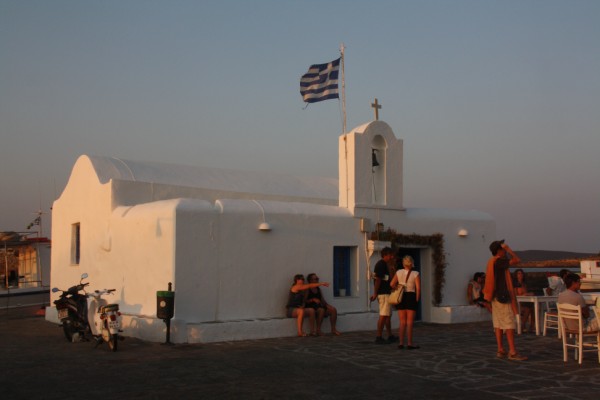 There is little that is more amusing than the sight of Romans trying to organise anything, let alone trying to organise Greeks, but the locals were obliging, the tourists docile, the sun set obediently, the captains discussed politics and played with their worry-beads, the girls tossed their hair, the fishermen fished, the boats bobbed, the sea was still as a mirror, the Naoussa ducks swam in on cue, the actress and actor embraced (I fear the film could be on the cheesy side…) and somehow, it all worked, with smiles and good humour. Romans and Greeks I suppose have been organising each other for over two thousand years…….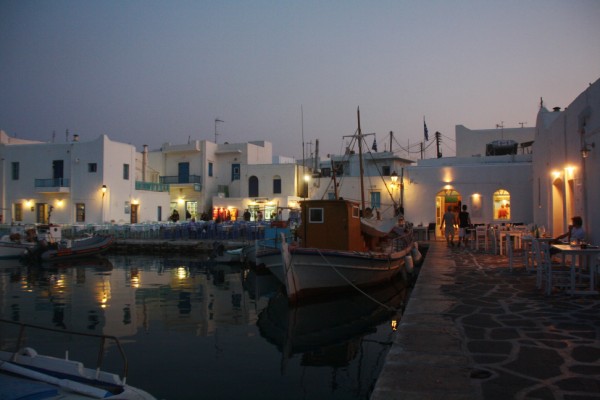 After a fabulous octopus braised in wine, bayleaf, cloves and onions, and after greatly offending one captain when I asked him not to dump his rubbish right in front of my camera as I was about to take a photo, ("What rubbish?? These are my film clothes,") I met with our concierge lady to discuss the needs for next year. We decided that what we want to do is not recreate international luxury lifestyle on Paros, (it is after all 45 quantum minutes from Mykonos which does it better than anyone else), but have our clients discover the secrets and essence of Paros, which is a wonderful island. Feathery pepper trees whisper above sandy beaches, myriad cute, laid- back beach tavernas serve the day's catch of fish in Dryos, Kalo Livadi, Chryssi Akti, Santa Marina and Farangas. You can work up an appetite with water sports, visit churches, and get lost in the whitewashed lanes of starry Naoussa with its cool shops and eighteenth century arches.
The all-year round weekenders, and sprinkling of ex-pats who live here keeps things fresh, though a recent epidemic of divorces has seen a steady stream of Austrian, Swedish, and German ladies heading north, leaving the stock of efficient organisers for tourist purposes sadly depleted, and plenty of crestfallen locals. Moustaches in Paros are sadly a-droop, so the Roman beauties were a welcome fillip.
Any Shirley Valentines out there should head for Naoussa pronto. The sun is still shining, the sea is warm, the jasmine flowering, and I promised my friend Loni who has lost all her best girlfriends this year that I would put out an advertisement….and if you have a cheerful disposition and a background in the hospitality industry, send me your email too.