July 17th
A shipowner friend arrived on his yacht yesterday – his newest toy, which is a Viking 45; small, smart, fast and sporty. Since the sea has been like a dusty mirror stretching all the way to Italy, we set off for the beautiful beach of Afales with its towering white cliffs and tiny round white pebbles. Captain Artemis watched us leave Skinos with misgivings as to our friend's prowess as captain. I don't believe in the evil eye, but within five minutes of our arriving at Afales, the anchor snapped in 15 metres of water, and we had to beg Captain Artemis to come out from Skinos. He arrived by speedboat, took one quick look around, a deep breath, and then disappeared under water for 5 minutes. We watched admiringly as he settled himself comfortably on the sea-bed, tied a knot around the broken anchor chain, tested it out, had a little rest, and t,hen floated back up. "All fixed" he said,  adding balefully "and I am not coming out a second time…" and then sped back to Skinos.
We did manage to get to Assos on Kephalonia (Kefallinia)  with no further incident. Assos is one of the most picturesque settings I know – a cute little fishing village on narrow neck of land connecting the dramatic west coast with a promontory that is thickly wooded with scented pines full of cicadas, and crowned with Frankish and Venetian fortifications.
The waterfront boasts 4 tavernas shaded by pink flowering oleander trees, a sandy shelving beach and a tumble down mole from where old ladies in straw hats sit and fish.
The engine of the tiny tender broke, but we were too far to call Artemis again, so the locals watched with amazement as we processed to the shore – three people layered across a small zodiac, pushed by Mark, an ex prop rugby player, trailing two lilos with four people on them and another two holding onto eachother's feet, all in gales of laughter. But everyone knows that Kephalonians are mad, so it was all quite in keeping.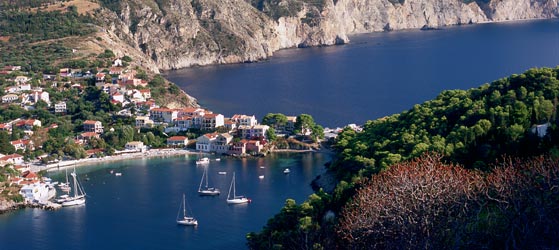 The west coast of Kephalonia is famous for Myrtos beach, (of Captain Corelli's Mandolin fame,)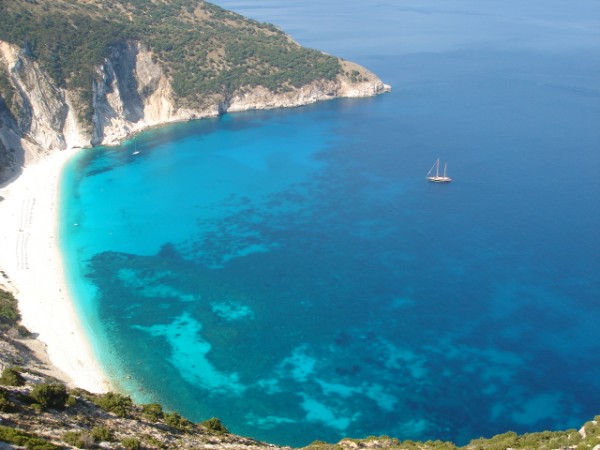 but the beaches on the way are almost lovelier – only accessible by boat, framed by multicoloured cliffs and riddled with caves and grottoes out of which fly pigeons and cormorants.
Anchorless and tenderless and exhausted from too much laughing, we made it back to Skinos and handed the whole sorry mess over to Captain Artemis. Who fixed it.
We  have one  spectacularly positioned villa from which all these glories are easily accessible; Kephalonia 5A, which is perched above Myrtos beach and has the best views of any villa I know, and one lovely villa  (Kephalonia 8F)  above Fiscardo which is a 15 minute drive away and a wonderful destination in its own right,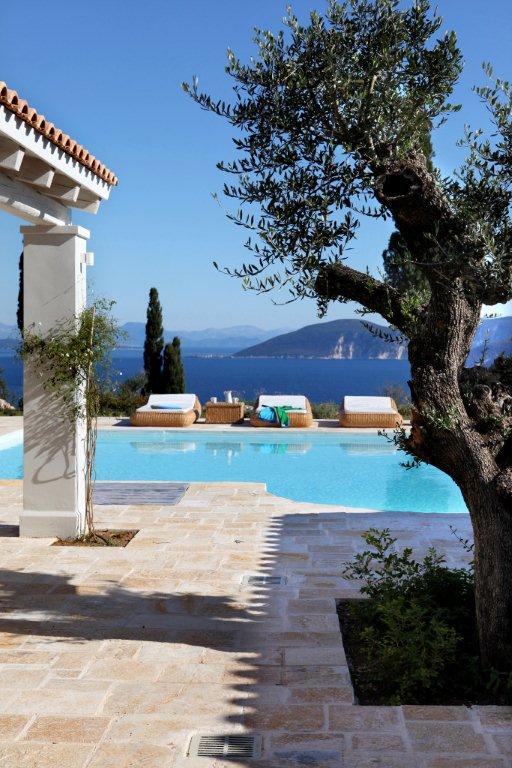 but if ever someone builds a good house on Assos, I will rent it myself….