May 30th
If I didn't know better, I would have sworn that two grouse strolled along my terrace this morning and had a drink from the pool. Still unseasonably cold, but I saw a couple of houses that we are going to take on – one in Lia, a lovely little gem tucked away above a secret beach with a private swimming platform,  real infinity pool, and lush foliage and flowers twining all over the place.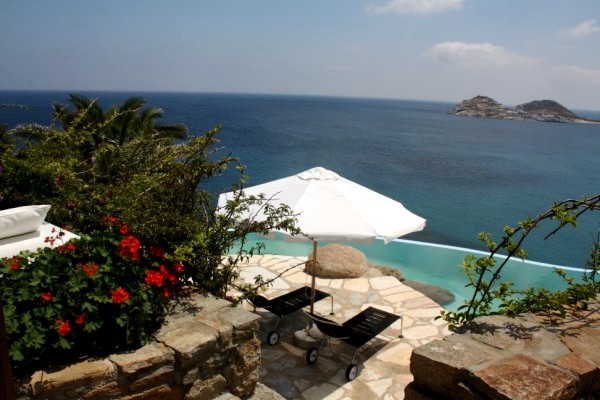 This would be one of the 3  houses in Mykonos, along with AK,  that I personally would love to stay in for a cosy holiday with easy private swimming.
Over in Panormos, an excellent  Italian-owned house with chic and flair.
And as a final contrast, an artist's house; winged light-bulbs hover above mirrors, life-size stuffed crocodiles lie splayed across the floor, marble nudes, 1950 photos, a hammock swinging over the pool, a great collection of tribal necklaces and Carnaby street hats, wonderful views and cows grazing in the fields above,  all a stone's throw from the beach.
Dinner at  Bandanna down on Elies beach – Bandanna 2 is opening down town in the new Marina area. Mykonians  are extremely demanding and sophisticated in their food tastes, and follow chefs around wherever they go,  so Bandanna groupies are very excited. Over mussels in wine, a Greek girlfriend explained how she had trained her husband to not leave clothes lying on the bathroom floor.  If you want to know the secret, call me;  brutal but effective.
30th May
Footnote to Mykonos….
Waiting at the airport for the little plane to Athens involves a lot of staring down at the ground, and it struck me every single girl's foot was shod in jewelled sandals and immaculately pedicured. Not an unpainted toenail in sight. Don't even think of coming to Mykonos unless you have been groomed, plucked, threaded, waxed, oiled and varnished to within an inch of your life.   And that goes for the ladies too.