Women, as all Greek men know, cannot drive. When they therefore have to reverse onto the little ferry deck of the Paros-Antiparos ferry, the shortest ride in Greece, and the one that affords the deepest insights into the gender war, any good Greek sailor knows he has to shout  "Left, left, LEFT, right RICHT RIGHTRIGHTRIGHTISAID, now left LEFT LEFT LEFTLEFTRIGHT, STOOOPPPPPPP while grabbing the steering wheel and pushing the car at the same time. This causes all women to lose faith in their ability to drive/think/hold a steering wheel, look out of a rear view mirror, and function in general, so that they start hyperventilating, tremble, reverse into the water melon van behind them, and eventually burst into tears and flee the car, leaving all good Greek sailors to sigh in resignation at the fact that women cannot drive.
This time I made the crossing with a man behind the wheel, Dimitri, our newest member of the Five Star Greece team. Dimitri comes from a patrician Paros family, and radiates the quiet authority that all good Greek sailors understand. Like the Red Sea, they part in front of us, politely indicating where Dimitri might have the goodness to park were he so minded, and then turn to the woman driver next to us and shout STOPPPPPPPPPSTOPPSTOPPPPPPGAMMOTO (do not google translate) as she stops as any normal person would do when reaching the back of the ferry deck. And then bursts into tears.
I am supposed to be writing about Antiparos,  which is slowly gaining traction as the place where celebrities go when they want to disappear, so:
Antiparos is only small, you will feel as if you  have known it all your life after a short time, and will be greeted as an old friend by the locals. You might run into Tom Hanks or Janet Jackson, if you do, just wave a friendly "Hi" like the locals do,  and do not rush up to ask for their autograph. Uncool.
Drop in at the new Apantima club which has been set up as a trendy beach club with a shop, a taverna, a beach bar, and is where whatever scene there is on laid back Antiparos gathers. Or walk down the garden path if you are staying at our new villa there –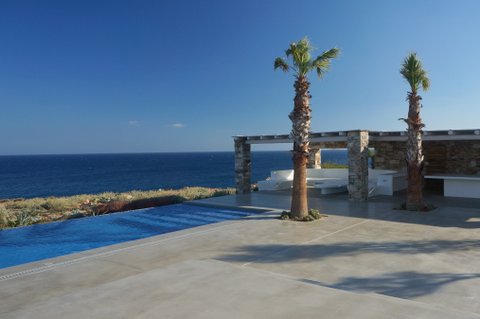 Captain Pipinos in Aghios Giorgios is the place to go for properly fresh fish beautifully cooked – turned on the grill every five minutes and seasoned with a brush made of oregano dipped in lemon and olive oil and salt.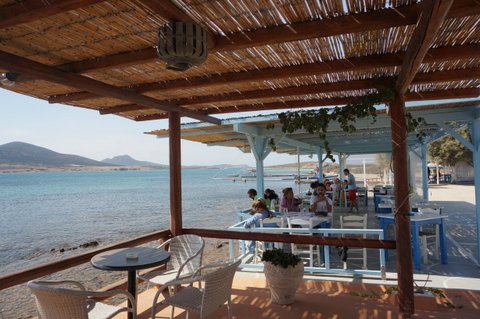 Our two lovely new villas  have paths down to beaches, fresh white summer décor, the pools  are still blue and inviting, and the late summer flowers in the garden still blooming. A totally beautiful  and private estate of three houses in a radiantly beautiful setting, is being gently led onto the market by us, if you are a large  (and extremely well-off) group with excellent taste and a love of nature,  wanting peace and gorgeous views, contact me quietly…
New  archaeological finds on the island of Despotiko off Antiparos make the day trip over to ramble across  the nature and heritage reserve even more enjoyable,  and as a woman, one's mind drifts to those mysterious pre-Mycenean times when women were the all-powerful priestesses, earth mothers and fertility goddesses, and  once a year,  any particularly macho Greek sailor  making comments about women chariot driving skills,  and daring to lay hands on the reins of the horses,  would be sacrificed at the altar,  well-basted with oregano, lemon and olive oil…